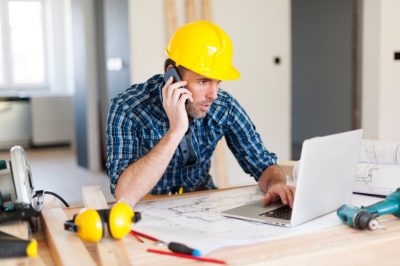 What is a Certified General Contractor?
A general contractor, main contractor or prime contractor is responsible for the day-to-day oversight of a construction site, management of vendors and trades, and the communication of information to all involved parties throughout the course of a building project.
Responsibilities
A general contractor is responsible for providing all of the material, labor, equipment (such as engineering vehicles and tools) and services necessary for the construction of the project. A general contractor often hires specialized subcontractors to perform all or portions of the construction work. When using subcontractors, the general contractor is responsible for the quality of all work performed by any and all of the hires.
The general contractor's number one priority is safety on the job site.
A general contractor's responsibilities may include applying for building permits, advising the person they are hired by, securing the property, providing temporary utilities on site, managing personnel on-site, providing site surveying and engineering, disposing or recycling of construction waste, monitoring schedules, and cash flows, and maintaining accurate records.
CERTIFIED CONTRACTORS VS. REGISTERED CONTRACTORS – WHAT'S THE DIFFERENCE?
We've all heard the age-old adage about making sure a contractor is bonded, insured, and licensed. But did you know in many states there are two classes of contractor licenses? Most people don't know the difference between a certified contractor and a registered contractor. That's what we'll describe below.
WHAT IS A CERTIFIED CONTRACTOR?
A certified contractor license allows the contractor to work anywhere within the state in which they are licensed. They've typically sat through and passed a state exam and adhered to fingerprinting requirements. They maintain certain levels of insurance and have shown they are financially responsible.
WHAT IS A REGISTERED CONTRACTOR?
A registered contractor license does not allow the contractor to work anywhere in the state. Registered contractors have not completed the state exam and are required to register in each city or county in which they want to work. However, registered contractors are still required to "register" with the state. This means they must also meet fingerprinting, insurance, and financial stability requirements just like the certified contractor.
HOW CAN I TELL IF A CONTRACTOR IS REGISTERED OF CERTIFIED?
Most states, if not all, have an online contractor license directory. The directory can be searched by consumers to determine the license type, its status, and other information. Florida's contractor license search system is perhaps one of the best in terms of ease of use and functionality. You can search by license type, individual name, company name, and other criteria which make it easy for a homeowner or business to search for a contractor's license.
ARE REGISTERED CONTRACTORS AS GOOD AS CERTIFIED CONTRACTORS?
Registered contractors can be every bit as good or better than the best-certified contractors. Certified contractors can be every bit as bad or worse than the worst certified contractors. The main difference between the two license types is that the registered contractor didn't take or complete the state exam. However, they may have completed and passed an exam required by the city or town in which they work to receive their competency card. This card shows that the contractor has met the requirements of the municipality who issued it and allows the contractor to work there. The requirements often include specific limits of insurance, state registration, and surety bonds that protect the home or business owner.