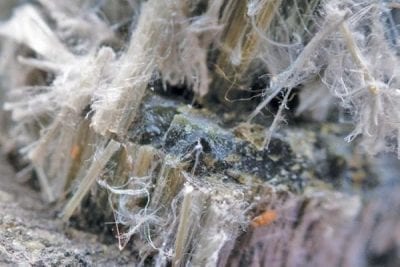 What are the Health Hazards of Exposure to Asbestos?
People may be exposed to asbestos in their workplace, their communities, or their homes. If products containing asbestos are disturbed, tiny asbestos fibers are released into the air. When asbestos fibers are breathed in, they may get trapped in the lungs and remain there for a long time. Over time, these fibers can accumulate and cause scarring and inflammation, which can affect breathing and lead to serious health problems.
Known Human Carcinogen. Asbestos has been classified as a known human carcinogen (a substance that causes cancer) by the U.S. Department of Health and Human Services (HHS), the U.S. Environmental Protection Agency (EPA), and the International Agency for Research on Cancer (IARC). According to IARC, there is sufficient evidence that asbestos causes mesothelioma (a relatively rare cancer of the thin membranes that line the chest and abdomen), and cancers of the lung, larynx, and ovary. Although rare, mesothelioma is the most common form of cancer associated with asbestos exposure. There is limited evidence that asbestos exposure is linked to increased risks of cancers of the stomach, pharynx, and colorectum.
Asbestos Exposure. Asbestos exposure may also increase the risk of asbestosis (an inflammatory condition affecting the lungs that can cause shortness of breath, coughing, and permanent lung damage) and other nonmalignant lung and pleural disorders, including pleural plaques (changes in the membranes surrounding the lung), pleural thickening, and benign pleural effusions (abnormal collections of fluid between the thin layers of tissue lining the lungs and the wall of the chest cavity). Although pleural plaques are not precursors to lung cancer, evidence suggests that people with pleural disease caused by exposure to asbestos may be at increased risk for lung cancer.
Erionite. Erionite has also been classified as a known human carcinogen by IARC and by HHS. It is not currently regulated by the EPA. Read more about asbestos and find out if you have asbestos in your home
Note: This article is informational only. When making purchasing decisions, conduct your own research.
For more information or support call us we are here to help you.