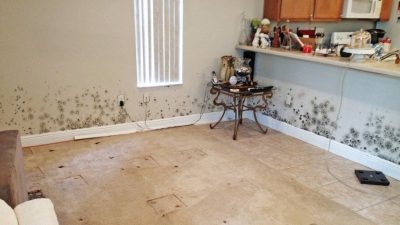 Whether it is a cold, damp winter or a warm, humid summer, activities at home can result in moisture indoors and the appearance of mold.
Mold can grow on walls, clothes, books, toys, and even CDs. It can turn prized possessions into musty relics that only look fit for the garbage. But is it also a health hazard? What effects can mold have on a person's body? This article looks at what mold is, why it grows, its impact on a person's health, and how to stop it.
Molds are a form of fungus. There are many different types, and they can occur both indoors and outdoors.
Molds produce spores, which spread by floating around in the air. Mold spores are present in all indoor environments. There is no way to prevent spores, and they can persist in conditions where mold itself cannot grow. Mold spores thrive in environments that are moist and warm, so when they land on a damp spot, they begin to grow.
Molds can grow on a variety of different surfaces, including fabric, paper, wood, glass, and plastic. As they grow, they may digest the material they are growing on. Read the following recommendations:
Always ask for mold testing first. Professional mold removal and prevention services offer laboratory analysis of samples taken from air ducts. At times, the collection of dust and cobwebs can look like mold. The only way to confirm an infestation is to run a conclusive test.
Get to know your HVAC system. Find out the primary material of your ductwork. It can be fiberglass, flex duct or metal sheet. The cleaning methods and the charges usually vary depending on the duct material type.
The air duct cleaning services should always follow the National Air Duct Cleaning Association's standards for the procedure. They should use EPA registered/approved products and processes for the effective removal of mold.
Ask for references and client testimonials from service providers. A reputed HVAC mold removal service provider should be able to provide more than enough satisfactory and genuine client reviews and recommendations from their previous stints.
Request frequent and periodic inspection of ducts and vents to prevent mold buildup. Mold problems can be recurrent. Ask for professional HVAC tips that can help you keep your indoor air clean in the future. Services should include yearly inspection of the cooling and heating systems along with the placement of moisture prevention systems within the HVAC.
Keeping your home clean is easy, but keeping the air inside your house fresh is more than challenging. It is a huge responsibility to ensure that the air you and your loved ones are breathing is free of harmful particles, VOCs, and mold. With the persistent humidity, warmth and water buildup, it is easy for fungus to find a home within your abode. You must be vigilant to keep this uninvited guest out of your home to ensure the proper health of your family and pets.
For over a decade EE&G Air Conditioning Heating, Cooling, and Plumbing have been the leading service provider near you for HVAC services such as air duct cleaning, a/c, and heating system repair and installations.  For any other information on how to get rid of mold in air ducts please contact us for a free consultation.