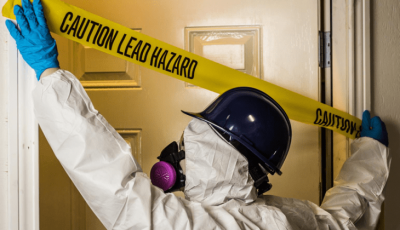 Lead Abatement Concept, Inspection and Risk Assessment.
Lead abatement is an activity to reduce levels of lead, particularly in the home environment, generally to permanently eliminate lead-based paint hazards, in order to reduce or eliminate incidents of lead poisoning.
Lead abatement may be undertaken in response to orders by state or local government. It requires specialized techniques that local construction contractors typically do not have. It includes activities such as lead-based paint inspections, risk assessments, and lead-based paint removal.
In the United States, lead abatement activities are regulated by the United States Environmental Protection Agency. Lead abatement companies are governed by the EPA and the EPA requires individuals and firms that conduct lead-based paint activities, including abatement, to be licensed. The lead abatement company, its supervisors, and all of the workers have to take classes and receive a certificate of completion. State agencies work with the EPA to enforce state and federal laws.
Lead abatement is distinguished from Renovation, Repair, and Painting (RRP) programs, which are typically performed at the option of the property owner for aesthetic or other reasons, or as an interim control to minimize lead hazards. RRP programs are not designed to permanently eliminate lead-based paint hazards.
EPA requires individuals and firms who perform abatement projects in pre-1978 target housing and child-occupied facilities to be certified and follow specific work practices.
Can I remove lead paint myself?
If you have lead-based paint, you have several options for removal. Although some states allow you to do the work yourself, a contractor who is certified in lead paint removal is trained to do the job safely and will determine the best abatement strategy.
Can you just paint over lead-based paint?
You can spray the surface with a sealant or cover it with gypsum wallboard. However, painting over lead-based paint with non-lead paint is not a long-term solution. Even though the lead-based paint may be covered by non-lead paint, the lead-based paint may continue to loosen from the surface below and create lead dust.
Paint made between 1960 and 1978 may contain low levels of lead, and paint before 1960 can have high levels of lead. If you think the paint in your house may contain lead, you can test it using a DIY lead test kit which can be purchased at home centers and used to tell if the paint in your house contains lead.